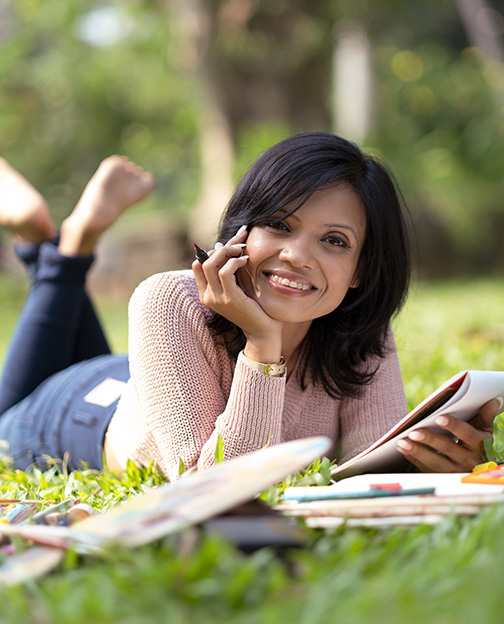 Neha Lohia is a prolific author, director, photographer, entrepreneur, and an incredibly talented commercial artist. With over 15 years of storytelling background in the illustrious advertising, Hollywood, and Bollywood industries, she has played multifaceted roles as producer, director, marketer, and won several accolades for her formidable contributions.
Since her childhood, Neha has fostered a robust spiritual inclination that has enabled her to discover her inherent value and the eternal truth that life unravels. Neha's work is a splendid manifestation of a keenly nurtured talent, profound, timeless wisdom, and earnest contemplation of life, delivered powerfully yet with chastened humility and a compassionate intent.
A remarkably resourceful writer, Neha creates immersive content on a vast range of topics, combining experiences from her transformative journey and valuable lessons gained from the world's best teachers that she shares passionately in numerous discerning ways, spurring her growth in the process. Neha's ability to seed humble and thoughtful reminders strategically throughout her writings makes them a lifeline for people seeking self-consciousness and awakening to their highest essence.
Her upcoming publications include coloring book series, storybooks in chapter books and picture book formats, activity, and learning book series. Her non-fictional literary works include books for soul searchers offering mirrors for self-reflection and books written for transforming women. She also creates artistic poem books and heart-centered quotes as doodles. Neha employs a humorous, emotional, and inspiring style in her immersive writings, offering needle movers in capsule formats.
A perpetual learner, Neha has a decorated academic crown with esteemed certifications that include a Diploma in Commercial Applied arts, a Master's in Photography, and a Master's in Neuro Linguistic Programming (NLP). She is a Certified Transformational Nutrition Coach (USA), certified meditation facilitator, certified yoga teacher trainer, certified organic farmer, a certified professional coach for spiritually awakening women, and professional trader, among multiple other highly acclaimed fields.
Like a life-giving stream of flowing water, Neha touches people's souls extraordinarily and simply allows the works to flow through her gratefully and gracefully. As a contemporary, spiritually inclined multi-passionate creator, Neha is committed to contributing to this world by sharing spiritual nourishment, growth, restoration, transformation, and remembrance of Love that we all have within.
Website: www.nehalohia.com