If you are a first-time advertiser on Amazon. It is confusing to navigate through Amazon Advertising. But, don't worry for an author there is an easy way to signup for an Amazon ads account and grant access to your account to someone else.
There are two ways to advertise your products or books on Amazon. The first way is through an Amazon seller account which will allow you to advertised your products and brand. But, you need to have a professional Amazon seller account that will cost you $39.99 per month.
The second way is for authors only who have published their book on Amazon through Kindle Direct Publishing (Amazon KDP). And, It's free to set up an advertising account, without monthly membership cost. You only pay for advertising fees generated by your ad campaign.
Let's first signup for an ads account for the author only (the second way):
Go to your KDP Bookshelf and click on three dots beside your book column. There you will find an option "Promote and advertise". Click on that link and you will be redirected to another page.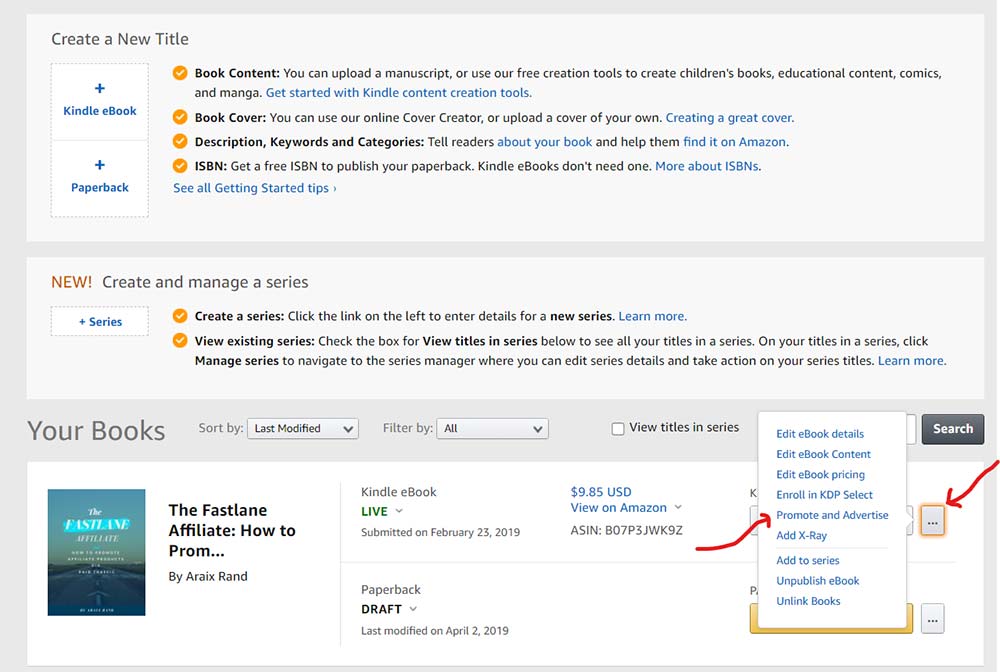 On the next page, choose a marketplace and click on "Create an ad campaign". For example, you can choose Amazon.com if you want to advertise your book in the USA Amazon marketplace. Please remember if your desired country is not available on the list then you can't promote your book on that country at this movement.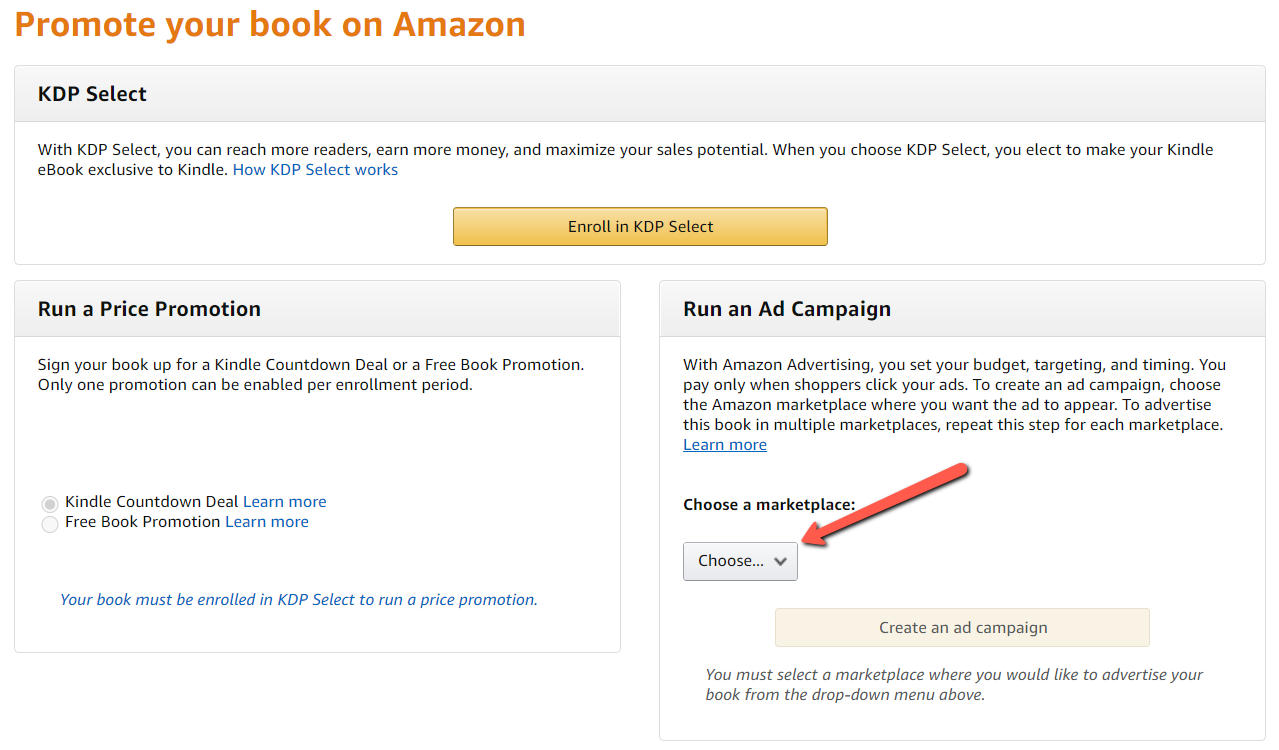 You will be redirected to the next page on which you have to agree to the terms and conditions of Amazon advertising. Click on the "Accept and Continue" button and now you have created an Amazon ads account.
Add Billing details to your Amazon ads account
This is a very important step in order to create an Amazon ads campaign for your book. You need to add billing/card details to your account so Amazon can charge you advertising fees each month or week.


Once you have added active billing details to your account then the "Payment set-up required" warning message from the page will disappear. After that, you are ready to create an Amazon ads campaign for your book.
Grant Access to Your Amazon Ad Account for Author
If you are working with someone or with us. Now you need to give them or us access to your Amazon ads account. There is an inbuilt feature on the Amazon ads account to give someone access to your account.
The easiest way is to give them your ID which you can find in the browser URL.
For example, if you are on your Amazon ads account dashboard your browser URL will look like this https://advertising.amazon.com/cm/campaigns?entityId=ENTITY315VMYXGYXXXX From this URL ENTITY315VMYXGYXXXX is your account ID.
Once we have your account ID then we will send you a request to access your Amazon ads account. You will receive an email notification about this. After that, you have to accept the request and your job is done.
There is a second way to give access to your account that required you to have the email address of the person you are giving access to. You need to go to the user management section to invite a user to your ads account.
You need to repeat the process if you want to invite someone to access your different Amazon ads marketplace.
Bonus: Easy way to access your Amazon ads account
New advertisers always forget the way to get back to their Amazon ads accounts in order to manage their ads. They have to go back to their Amazon KDP account and follow all the step that took to create a new account. There is a simple way to fix this.
https://advertising.amazon.com/ is the official Amazon advertising page for the USA marketplace. What you have to do is put cm at the end of the URL. Like this: https://advertising.amazon.com/cm – for the UK marketplace: https://advertising.amazon.co.uk/cm – for the Canada marketplace https://advertising.amazon.ca/cm
Please don't forget to share this blog post on your social media, someone else can benefit from this. Thank you